Water Mission is a nonprofit Christian engineering ministry providing sustainable safe water solutions, through a Christian world view perspective, to people in developing countries and disasters. They approach all their work with a sense of urgency and a commitment to excellence. Their faith and their belief in the sanctity of life compel them to develop and implement the best technologies and community development programs so that, through their work, God will be honored and glorified and lives will be transformed for eternity. Water Mission serves all people regardless of age, gender, race or faith.
How You Can Help Through St. James
Water Mission is one of the missions that our annual pumpkin patch supports. When you purchase a pumpkin from our patch you are turning pumpkins into clean and safe water for others.
Walk for Water Charleston is a local annual event that takes place in North Charleston, SC. Join the St. James UMC Walk for Water Team. Register, raise money, and walk 3 miles. While you walk, you get the opportunity to learn and actually see how Water Mission provides clean water with their technology.
Donate financially to Water Mission so that they can provides sustainable safe water solutions.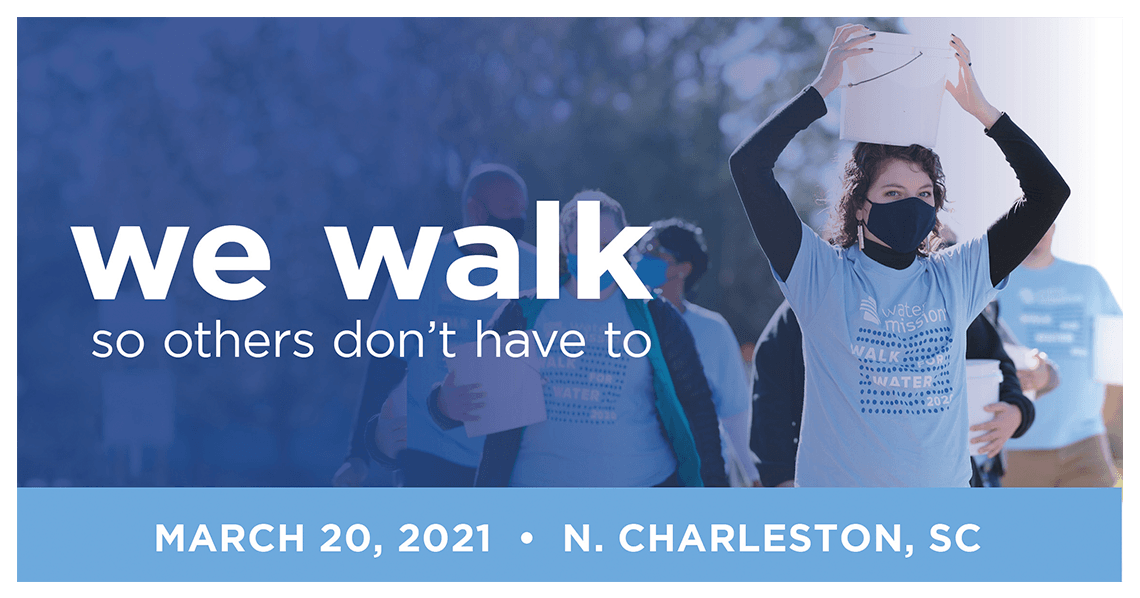 2021 Walk for Water Charleston Registration
St. James United Methodist Church will participate in the 2021 Walk for Water. We have chosen to walk within our own community of Goose Creek. On Saturday, March 20th at 9:00 AM we invite the community to join our team and meet at Goose Creek City Hall, located off of Highway 52. Our group will walk around the pond located behind City Hall. You may also choose to participate and walk on your own. We will continue to wear masks and practice social distancing when we walk. Learn how to register with our church team below.
Step by step - how to register and join our church team
1. Click on "Join a Team"
2. If you've walked before, just enter your login information from a previous year. If you've never participated in "Walk for Water" then you will need to make an account.
3. Next, under "Team Name" type: St. James United Methodist Church. Do not worry about selecting anything under "Team Company."
4. Now you will select Virtual Adult, Youth, or Child, depending on who you are registering. You can set your individual fundraising goal for whatever amount you want.
5. On the next page you will enter your personal information, account information, and t-shirt size.
6. From here you will "Agree to Terms", review account information, and make your registration payment.