St. James UMC Blessing Box
TAKE what you need, LEAVE what you can, above all be BLESSED!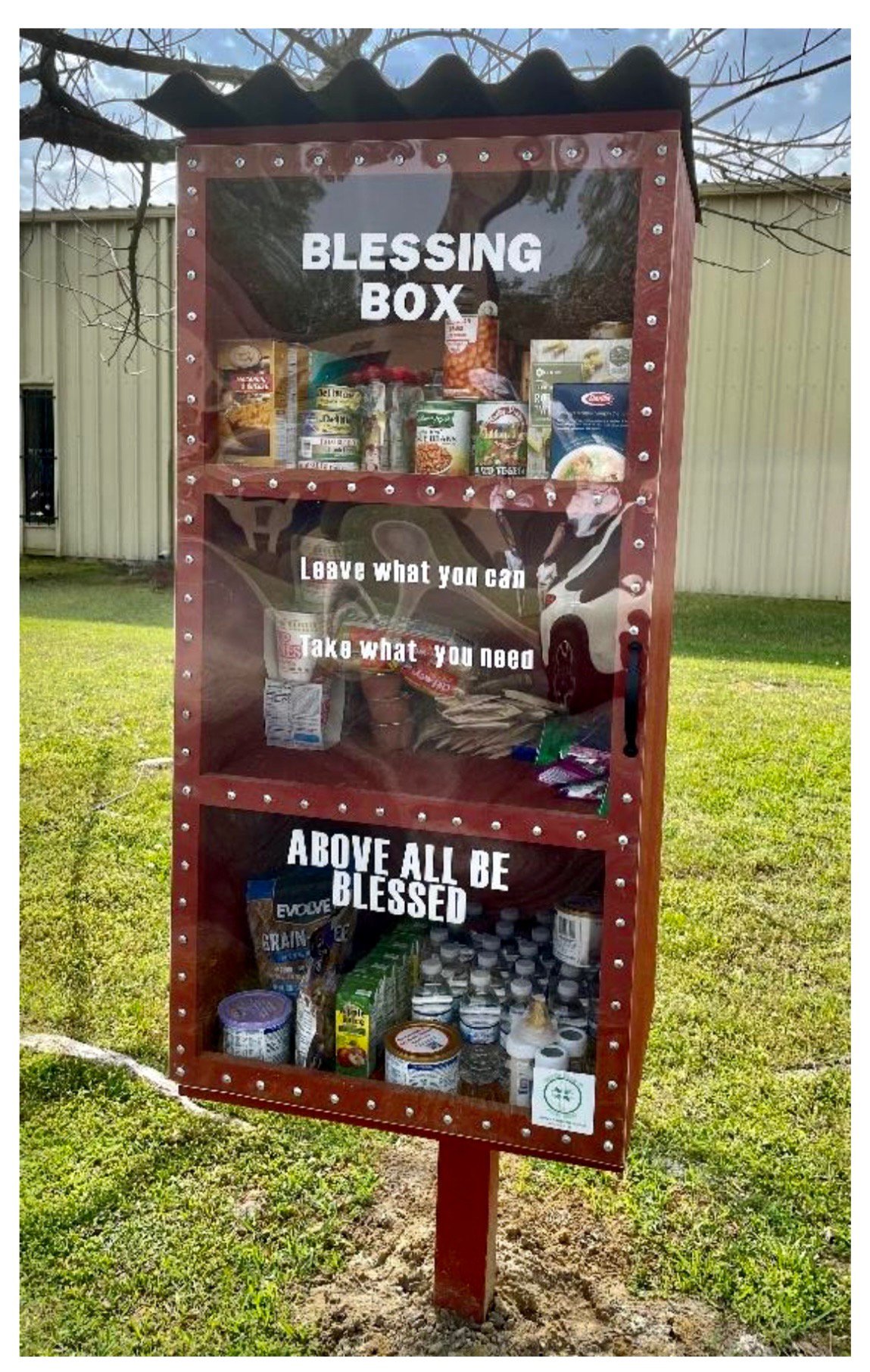 wHAT IS A BLESSING BOX?
The Blessing Box is a miniature food pantry located to the right of the front parking lot. The box is wooden and burgundy colored. It is for receiving items from those who want to donate, and offering to those who need them. Whether you're taking or giving, you can access the Blessing Box any time. There is no lock, and it's open 24/7.
Why do we have a blessing box?
Jesus calls us to minister to those in need. In Matthew 25 Jesus says:
"Then the King will say to those on his right, 'Come, you who are blessed by my Father; take your inheritance, the kingdom prepared for you since the creation of the world. For I was hungry and you gave me something to eat, I was thirsty and you gave me something to drink, I was a stranger and you invited me in, I needed clothes and you clothed me, I was sick and you looked after me, I was in prison and you came to visit me.'
"Then the righteous will answer him, 'Lord, when did we see you hungry and feed you, or thirsty and give you something to drink? When did we see you a stranger and invite you in, or needing clothes and clothe you? When did we see you sick or in prison and go to visit you?'
"The King will reply, 'Truly I tell you, whatever you did for one of the least of these brothers and sisters of mine, you did for me.'
IDEAS OF THINGS TO DONATE
NON-PERISHABLE FOOD ITEMS
Canned Vegetables
Canned Soups, Stews, Chilis (w/ pull tops)
Ramen
Cans or pouches of chicken or tuna.
Crackers
Granola Bars
Oat Meal or Grits Packets
Other snacks that are prepackaged and can be divided
Canned fruit
Apple Sauce
Peanut butter
Boxed Hamburger Helper
Spaghetti Sauce
Noodles
Muffin Mix
Water
Juice Boxes
Taco Kits
Pancake Mix
Syrup
Mashed Potatoes
Flavored Rice
Vienna Sausage
Baked Beans
Nuts
Baby food
Kitchen staples (flour, sugar, salt & pepper)
Hygiene items
Shampoo / conditioner
Bar soap
Toothpaste / toothbrushes / floss
Deodorant
Feminine Care Products
Children's bath products (baby wash, lotion, diaper cream, wipes, etc.)